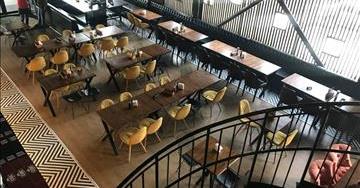 Experience & solutios
With an experience of over 13 years, Solexpert has highlight as a visionary showroom, constantly updated with the latest news in the field of interior and exterior design. Solexpert offers complete and complex solutions floors: from advice on the type of flooring required, its composition and characteristics, to the method of installation and to the effective delivery of the installed surface.
We offer a large variety of floors (carpet, PVC, artificial turf, parquet, technical floors, sports floors), and all the accessories needed to install the desire surfaces. In addition, our team is at your disposal with information and consulting and delivers in optimal times a complete and high-performance system of floors coverings, anywhere in the country.
The current situation is favorable for smart investments, so we ensure fast delivery, from stock, anywhere in the country, for a series of products: carpet roll (dedicated to interior design, especially hotels, office buildings, cinemas, theaters, game rooms, casinos), carpet tiles (office buildings, banks, kindergartens or schools), PVC roll, (sanitary spaces, such as hospitals, clinics, operating rooms, laboratories, salons, medical or dental office in waiting rooms, halls, but also in the food industry in bakeries, confectionery and pastry laboratories, in commercial spaces, offices, universities, schools, kindergartens, professional kitchens, company headquarters, shops and deposits, public transportation, etc.
Antibacterial PVC for heavy traffic and impeccable hygiene
For projects that involve immediate results in a very short time, we propose the antibacterial PVC carpet, a product that is a current solution for spaces with heavy traffic, whether we are talking about hospitals or medical offices, schools, kindergartens, waiting rooms, industry food, public transport or public spaces.
PVC carpets with antibacterial treatment are more than a regular floor, due to the self-disinfection surface that makes the product the right choice for any space in the filed of health and more.
Properties of PVC carpet
The antibacterial PVC carpet is comfortable to the touch and has antistatic properties. It also retains dirt and bacteria until it is cleaned, making it the perfect floor for medical spaces.
It is a combination of utility and pleasant appearance, being available in a large variety of colors and models that can be adapted to any type of buildings.
It does not stain easily and withstands heavy equipment.
It is also a suitable choice for spaces where noise attenuation is important, it significantly reduces impact noise.
Durability of PVC flooring
Antibacterial PVC flooring has excellent performance, has superior abrasion and chemical resistance, so it can be ideal choice for offices and homes.
It is a product that excels in both strength and comfort, adaptable to any type of space. It is a definitely a healthy choice and a way to protect against germs.
Carpet tils – ideal product for arranging office, hotel or restaurant spaces
Current trends bring to our attention carpet in tiles, an ideal product for arranging some office space, hotel and even restaurant.
One of the main features of carpeted tiles is modularity, which is available in a square shape.
The carpet represents a practical, versatile and extremely comfortable solution, managing to cover the floor in a way that is as practical, elegant and modern.
Whether we are talking about arranging the home or a space with heavy traffic, carpet can be a suitable solution by the simple fact that it can be adapted to the client's needs, the destination of the space, but also the color of the place where it will be installed.
Durable & Comfort
It is resistant to heavy traffic, which turns this type of carpet into a choice inspired not only in terms of aesthetics, but also due to the thermal and sound insulation it provides, the low risk of slip injury and the appearance of clean space because stains they are no longer visible and can be easily cleaned.
Another advantage is the fact that it offers increased comfort, is easy to maintain and with minimal costs, is available in versions that do not maintain combustion and can be available in a large variety of colors that give the space a perfect look.
Due to the format and the benefits offered by the structure, carpet tiles are the ideal solution for redeveloping the floor, especially in spaces such as office buildings or public facilities.
Arrange your spaces with the same attention and style that you give to your own person.
We are the only ones in Romania that offer complete flooring solutions, so the whole country is completely covered with a team of 25 project managers and 10 installation teams. Our goal is to obtain the perfect working environment, that's why our services are of high quality for each project.
We collaborate with the most famous suppliers, reason why we guarantee the quality of our products. Solexpert Group - Solexpert Flooring, Konstroctium and Benephyts - is the only provider of complete solutions that has opened showrooms in 4 important cities in the country: Bucharest, Brasov, Cluj and Constanta.
Our partners in Germany, Poland, the UK, Belgium and France are, in turn, leaders in their business segment.
For the complete range of products access www.solexpert.ro