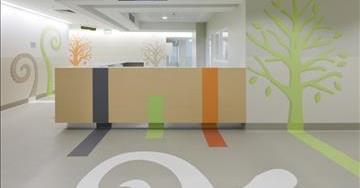 The domain of healthcare units is a domain in which a flawless cleanness is required, a fact that involves the application of strict rules concerning the flooring type appropriate for such spaces. As a general rule, for setting up such spaces it is recommended PVC carpets or PVC linoleum, because they are easy to clean and disinfect.
The floorings from inside hospitals, clinics, medical offices, and other healthcare institutions, must fulfill a few essential conditions: they must not have joints, to be safe for walking, easy to clean and disinfect, and to be antibacterial. This is why the antibacterial and anti-germs PVC carpet is recommended, having a high traffic and abrasion resistance.
The PVC carpet for medical cabinets or medical linoleum has a lot of advantages that make it highly sought after among PVC floorings, for setting up this type of spaces:
It is resistant to various chemical agents;
It is an antibacterial linoleum, and anti-fungal, fulfilling the medical domain standards;
The PVC carpet is anti-slip and antistatic;
It has a high resistance, even in the case of contact with chemical substances;
It doesn't get scratched or stained;
It is linoleum for high traffic, making it the right choice for intensely circulated spaces, like medical units;
It has a high rate of wear;
PVC carpet for medical cabinets can have conductive properties, being ideal for rooms with special equipment (surgery rooms);
It is a good thermal and phonic isolator;
It cleans easily;
PVC carpets are available in a wide range of colors and patterns.
PVC carpets are very flexible and stable products, beneficiating by an easy and fast installation. Besides these qualities, PVC carpet or linoleum created for medical spaces is very modern, hardly flammable, representing the best alternative for classic floorings.
High-quality medical linoleum is elastic, so that, through the appliance of certain soffit installation methods, straight angles in the corners and joints can be eliminated, which are hard to clean, favoring the appearance of dirt and bacteria. PVC carpets are non-absorbent, impermeable, puts up with warm welding, and soffit elevation for an easy cleaning.
The PVC flooring is a modern one, very efficient and useful in healthcare units, due to its high traffic resistance, high endurance, and easy installation and maintenance. Also, the PVC carpet has the following qualities: highly resistance color in time, anti-slip, and high noise absorption degree.
PVC carpets can be found in various versions: uniform PVC carpet, mixed, conductive/dissipative, anti-slip, all of them being flexible and of a very good quality. Conductive PVC carpets have an excellent resistance to chemical products that are used in medical units, and are mostly used in intensive care units and surgical rooms. These floorings have very high technical standards, providing extra comfort.
A PVC carpet and linoleum remain a viable solution for medical units in which high resistance to hygiene, durability and easy maintenance are priorities. Also, the PVC carpet is a type of flooring that offers a warmth sensation in the room where it is installed.