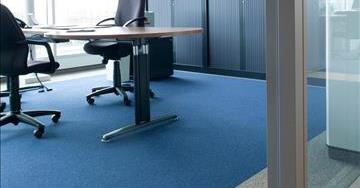 The tile-type carpet, also known as modular carpet, is successfully used in public spaces, office spaces, restaurants, schools or kindergartens. Modular carpet is a very modern type of flooring that offers endless combination possibilities. It has a special design, a beautiful aspect, and it is stylish and resistant at the same time. Modular carpet can be combined in different textures and colors, the result having particular visual effects.
The advantages offered by tile-type carpet are numerous.
First of all, the installment time is shortened. Being made out of tiles, it allows access to technical flooring. In case a particular area is damaged, it isn't necessary the replacement of the flooring in the entire enclosure, but only the damaged part.
Besides the fact that it is easy to replace, it has other advantages: it has an easy installment, it is ideal for elevated floors, it is a carpet resistant to high-traffic, it is fire resistant and UV resistant, it is resistant to dirt and represents a phonic and thermal barrier.
In order to have a particular aesthetic appearance, the carpet must be installed in a professional manner, following specific procedures. The installment of tile-type carpet is done fast through its positioning straight on the floor. On the back of the carpet tiles you can see the installment direction that should be followed, for perfect bonds.
The installment of tile-type carpet is easy to be made and it does not require adhesives for sticking it, or professionals to install it. It can be rapidly installed by anyone, on any floor of choice.
Modular carpet represents a fast set-up, elegant and modern method for floorings. It is manufactured out of modern materials, which make it unique through its particular qualities. Modular carpet can put up a good fight against dampness and moisture, it will not retain water and won't mold, and this is why it is ideal for any space, even for residences.
It can perfectly sit on any type of floor, having an ideal adherence on any type of material, regardless if it is tiles, concrete or wood flooring, making it an ideal flooring for all spaces and enclosures, starting with hotels and enterprises, up to motels, bars, boarding houses, villas, offices, residential buildings, banks, kindergartens, schools, and gyms.
The tile-type carpet is ideal for setting up technical floors, facilitating the access for installing cables for offices, exhibitions, etc. It is also suitable for spaces in which roll-type carpet is not the best choice because of space with irregular forms, with many edges, a lot of furniture and other.
The modular carpet is manufactured from the same materials like the classic carpet, being as resistant and easy to maintain like this one. Due to the manufacturing method, this type of carpet is more stable from a dimensional point of view than the carpet in rolls. Tile-type carpet offers a special color and design to any space, through multiple possibilities of customization. With the help of such carpet, new designs and accents can be achieved, which can change at any time the aspect of an enclosure or facilitate the replacement of high-traffic area, which can get damaged more quickly.